Small Business Ideas From Home: 6 Options to Start Today
Small Business Ideas From Home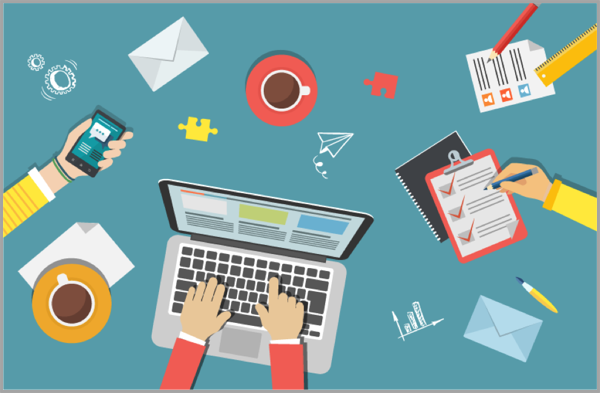 You might be deciding to start your own small business from home.
There are millions of small businesses in the U.S, as well as throughout the entire world.
Small businesses are essential to our economy, and positively impact the lives of everyday people.
Small Business Saturday has even been created to recognize and acknowledge small businesses.
All businesses have to start somewhere and some small businesses can even turn into larger corporations.
According to the U.S Census Bureau, there are over 5 million employer companies.
Companies with less than 100 workers account for about 98.2 percent.
Job creation definitely comes from small business.
If you are looking to work from home and start a small business, you might be wondering what ideas and options are out there.
In this post, we are going to discuss some small business ideas that you can start from the comfort of your own home.
Starting an eBay Small Business From Home
eBay is a very popular online auction site where almost anything can be purchased online.
Many online businesses and small businesses have gotten their start using eBay.
Selling items on eBay is the type of small business that many entrepreneurs can start up, even on the side part-time.
If you have any items in your house that you would like to exchange for cash, post them on eBay.
Now, if you are looking to turn this into a long term small business option, you will need to identify a place to source your products from.
After all, if you don't have enough items to sell on eBay, you aren't going to make any real money.
This is where a wholesale directory would be beneficial.
A wholesale directory is what successful online sellers use to identify the right wholesale suppliers to work with and source their products from.
If you are serious about getting into Ecommerce and selling items online, you can check out this wholesale directory resource.
Starting a Kindle Publishing Small Business From Home
This is a small business that can easily be run from your home space.
With this type of online business, you would be creating your own Kindle eBooks and selling them online.
The good thing about Kindle eBooks is that they are digital books.  Once you create a book, you can resell the same eBook over and over again.
For people who enjoy writing, this is a way to make a passive income online.
What should you write about?
This depends on your interests, skills, and experience.  More importantly, you will want to write about topics that other people would be interested in reading about (and spending their money on).
Find something that others would enjoy, write about it, and start publishing and marketing your content.
You can find out more about a complete program on how to make money with Kindle publishing here.
Starting a Freelancing Small Business From Home
One quick small business option is to become a freelancer and start earning money for your skills.
Popular freelance sites like Upwork are always looking for skilled freelancers in a number of different areas.
You will find a whole bunch of different contract jobs available on there where you can work from home on a remote basis.
Everything from tech related software jobs, to marketing, SEO, writing, along with others.
See what companies are hiring for and how your experience can add value and benefit them.
If you decide to freelance on any site, you might decide to work as a W2 employee, 1099 contractor, or form your own Corporation, as a C-Corp or S-Corp.  This will depend on the requirements of the company that is looking to hire.
Speak with your accountant or tax professional for more help with this.
Starting a Woodworking Small Business From Home
Are you someone who enjoys working with your hands and building things?
If so, starting your own woodworking small business from home could be a viable idea.
With a woodworking small business, you would be creating and selling your own easy to build items and wood crafts.
Now, some people might be thinking that you have to be an expert in carpentry to get started with this type of home business.
You actually don't.
To find out more about this type of small business, we would recommend checking out WoodProfits.  This program will walk you through what you need to get started right away.
Starting a Social Media Small Business From Home
You can start your own social media consulting small business.
Companies have a need for people to manage their social media campaigns.
If you like spending any time on social media including Facebook, Twitter, Instagram, and YouTube, you can make money doing this.
You could either work for a company that needs help with their social media presence, or you can become a social media consultant.
Paid Social Media Jobs has more information on this.
Starting an Affiliate Marketing Small Business From Home
Affiliate Marketing involves promoting other company's products online.
You make money each time you successfully promote a product, and earn a commission.
For example, if you have a blog that talks about weight loss, you may decide to promote an eBook product that describes the newest weight loss tips and methods.  Each time you sell this eBook through your affiliate link, you will earn a commission.
This is a very popular type of small business and online business.
Most people get started by starting their own blog and blogging about different topics, while recommending affiliate products to assist their readers.
There are a number of different niches that you can get involved with when it comes to affiliate marketing.
You can learn more about how to make money with affiliate marketing here.
Which Small Business Should You Start From Home Today?
As you can see, you have several different options when it comes to starting your own small business from home.
Depending on your interests, skills, and passions, you may decide to start one of the ideas listed in this blog post.
The ideas listed in this post can be started and run from a home office, allowing you the freedom and flexibility to work from home.
These small businesses can be started as a side hustle (on the side), on a part-time basis.
Or, you can also devote your attention full time if wish.
As with any idea, a small business can turn into a much bigger business.
It all depends on how much persistence you have and how far you would like to take your business.
We hope this post gave you a few ideas to get you started in the right direction.
Wishing you all the best in starting your new small business.